BCH Safety, in partnership with Rozel, offers three kinds of affordable,
ONLINE ELECTRICAL SAFETY TRAINING:
QUALIFIED WORKER
Electrical Safety Training
UNQUALIFIED WORKER
Electrical Safety Training
FUNDAMENTALS
of Electrical Maintenance

Attention S&H Managers:
Rozel's NFPA 70e® Based Online Electrical Safety Training On Demand fills the gap left between live, comprehensive electrical safety trainings.
Perfect for:


&nbsp
• New Workers
• Outside Technicians and Maintenance Persons
• Refresher for Electricians and Safety Managers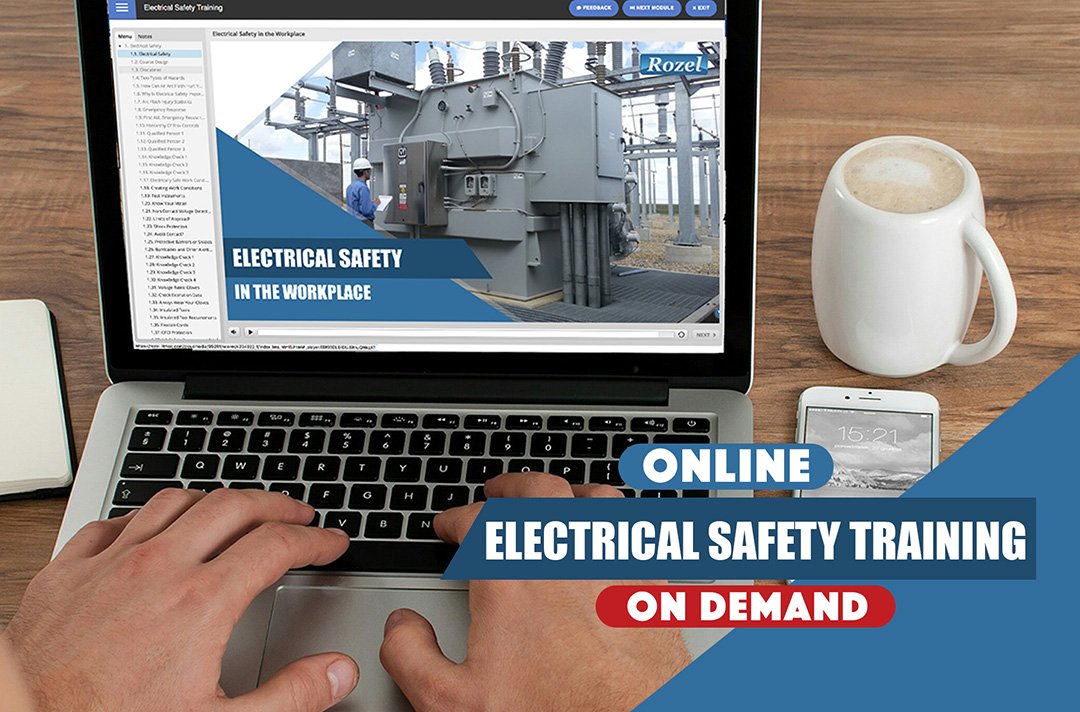 CONVENIENT | EFFECTIVE | AFFORDABLE
• Electrical safety training in less than an hour
• 11 TOTAL LESSONS FOR ONLY $45
• Group rates may apply. Contact us to inquire
Live Instructor Led Online Training
Attend LIVE Instructor Led Electrical Safety Training By Entering Our Online Classroom. We are now offering our great instructor led classroom training via a web link. This is the perfect solution for companies who need and want high quality NFPA 70E based electrical safety training. Students can join the class using their computers or even cell phones from any location that has an internet connection.

OSHA requirements state that employees considered unqualified (not formally trained electrical workers) shall be trained in and familiar with any electrically related safety practices which are necessary for their safety.
Our unqualified persons training is designed to keep workers safe while performing job duties that do not require them to work directly on electrical equipment but are exposed to electrical hazards as part of their daily work routines such as opening disconnect switches for lockout tagout purposes, operating power tools or industrial machinery.
At the completion of these lessons, the student will be able to identify common workplace electrical hazards and determine the proper course of action to keep themselves safe from those hazards.
7 TOTAL LESSONS FOR ONLY $25
Group rates may apply. Contact us to inquire

An electrical technician who can systematically troubleshoot and safely repair their plant's equipment will ultimately add to their organizations' bottom line.
The untrained technician unnecessarily replaces costly parts and must wait for technical support from engineering, the supervisory staff, or the equipment manufactures' support organization. This wastes valuable time and money. In some cases, the equipment gets damaged because parts are installed incorrectly, or the workmanship is substandard.
The training professionals at BCH have designed a course that will give your technicians the skills and knowledge they need to become safe and technically proficient. The Fundamentals of Electrical Maintenance Course begins with basic electrical theories and ends with advanced electrical maintenance troubleshooting concepts.
The course combines classroom lectures with hands-on activities – building and troubleshooting circuits utilizing industrial electrical equipment, components, drawings and test equipment.
CONVENIENT | EFFECTIVE | AFFORDABLE
4-hour NFPA 70e® Training