Arc Flash & Shock Hazard Electrical Safety Training Classes
Onsite, interactive NFPA 70e®-based training by certified instructor
BCH Safety provides NFPA 70e®-based Arc Flash & Shock Hazard Electrical Safety Training classes to companies in need of protecting their employees and investments. Brian Hall, president, is NFPA certified and nuclear trained and qualified.
Brian personalizes his classes to each audience and situation and conducts hands-on, interactive classes to ensure the highest level of retention possible.
Drastically reduce chances of injuries and fatalities
Abate risk of OSHA fines and litigation due to non-compliance
Reduce chance of equipment damage due to arc flash blasts
Lessen potential production line downtime due to injuries or equipment failure.
---
Each class is 8 hours • Ready for class prices? Fill out form below!
---

On Site Specific Electrical Safety Training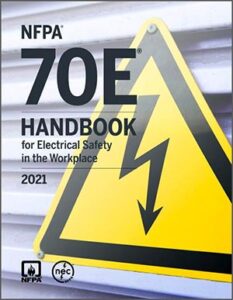 NFPA 70e® certified training by BCH Safety, Cleveland, Ohio.
Brian Hall, CESCP, an experienced and certified instructor, will come to your facility and provide the electrical safety training required by OSHA and NFPA 70e®.
Our training is designed to ensure that the material presented is understood and retained. This is why we include hands-on exercises, demonstrations and a written exam to verify knowledge transfer. We also provide all the necessary documents such as sign-in sheets, certificates of completion, and classroom copies of the most current NFPA 70E® edition.
Click below for full class outline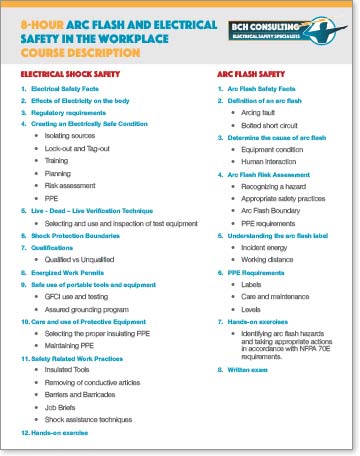 Arc Flash Hazard & Shock Hazard Safety Training estimate
Step One:

Please fill out form below.

Step Two:

A BCH representative will call you for details on class customizations and provide you with your final estimate.
The Benefits of Onsite Electrical Safety Training
Eliminate personnel travel time and associated expense
Address your specific equipment and systems
You choose the course schedule – mornings, afternoons, evenings, weekends
Customize course length by adjusting content covered
Customize course content to reinforce your safety policies and expectations
Courses are presented at the knowledge level of your personnel
Train all affected employees at once.
Have personnel available on site should an emergency situation arise
Ensure consistent training message for all of your personnel
Have privacy to discuss company specific concerns and questions
More affordable than offsite training